Products with PEFC and FSC® certified components
Combining PEFC and FSC in one product - that's not possible, is it?
But it is! However, be aware: not everything is possible just like that. In this knowledge article, we explain what is possible.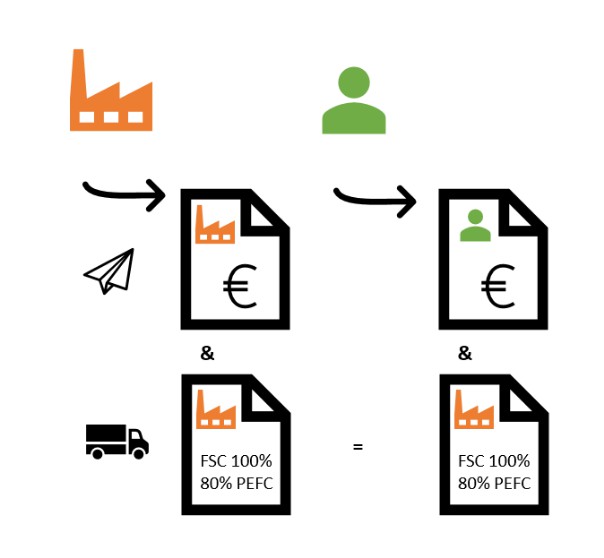 How it works.
Certified products as a whole may simultaneously carry the FSC claim and the PEFC claim if all materials used in the product meet the eligibility criteria of both labels. This is often not the case, making it impossible to make a combined claim.
However, it is allowed to specify on an appendix which parts are FSC- and which PEFC-certified, this is called a partial claim. For this, however, the company must have Chain of Custody certification for both labels.

As the receiving customer does not get official claim(s) on his purchase invoice, he is also not allowed to put claim(s) on his sales invoice. He may, however, forward to the customer the original attachment of the purchase invoice showing the claim per part of the product.
For who?
This arrangement only applies to companies that supply custom-made products to the construction sector. These are typically companies that supply semi-finished products, e.g. window frames from carpentry factories, facade builders, sheet piling from GWW sector suppliers, etc.
What does a partial claim look like?
Sample text on the invoice:
This product consists partly of FSC®- and partly of PEFC-certified parts. For the certified parts and the corresponding claims, see the appendix to this invoice.
Sample text on the attachment:
Appendix belonging to invoice number ######.
Dam wall consisting of:
Below the waterline, Pine - Pinus sylvestris, 100% PEFC certified
Above the waterline, Angelim Vermelho - Dinizia excelsa, FSC 100%
Where does this say?
The above is an elaboration of the FSC standard (FSC-STD-40-004 V3-0, §5.8) and interpretation (INT-STD-40-004_46) and the PEFC standard (PEFC ST 2002-2020).